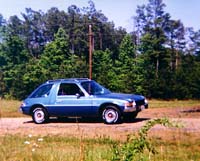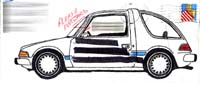 144. From the snailmail bag: "In November of 1997, my beloved Pacer came into my life. I had been looking for one for about 2 years, and I had found three, but they were either [priced] too high or too rusty.

"I was driving through a town ten miles south of here, and I saw one sitting in the Public Housing Developments with a cardboard 'For Sale' sign on it. I [stopped], and an old woman with a wad of chewing tobacco in her lip answered the door. I asked 'how much for the Pacer?', and after a spit, she told me $400. I then [asked her] how she would like to own a car about 10 years newer instead of taking cash. So I went home and brought back a silver '85 Chevette. In other words, I now own a Pacer.

"It was in pretty sad shape. I've put in new carpet, tires, patched up the door panels, painted all of the interior trim, buffed the outside, and countless other things and troubles. I've since joined the Pacer Club, and I also run the AMC Matador Barcelona Registry through AMO." -Keith Bryson

Keith's Pacer "Flo" is a 1977 D/L coupe in Captain Blue Metallic, light blue interior. It's an automatic with power steering, power brakes, an 8-track player, A/C, automatic running lamps, a roof rack, basketry-weave seats with blue trim, and buttercup wheels.

Keith also owns a 1977 Matador Barcelona coupe.

The pictures to the left are Keith's Pacer and the awesome envelope in which he sent me the pictures and letter. Unfortunately, my mom, who was forwarding me my mail at the time, defaced it slightly.