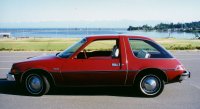 148. "My wife and I are retired and we both owned Pacer Wagons [in a former life] over a decade ago.

"For the last 6 months or so we have been searching out another Pacer to restore, and 2 months ago, we found it. Not a bargain, but a low mileage minimal rust beauty.

"We have done all the mechanicals [springs, shocks, brakes, and then body work and painting.. I have included a photo, and once I have loaded them to my site, I will join the web ring so I can brag..[g]

"If you can make to Ocean Shores on the Olympic Peninsula at the end of July, I would be pleased to meet you. This will be my first 'showing' of our 1975 Pacer 232 I6, Auto. It still has some details missing, but we are happy with it. I moved out here [when I retired, and to get married] from the Toronto area, 6 years ago.. and haven't regretted it." -Charles Patterson

Editor's Note: I did, in fact meet Charles and Pat at the Ocean Shores meet, which is where I found Pacer #2!