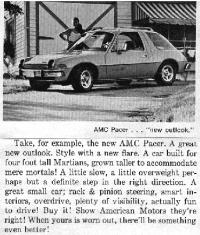 162. "From Goodyear Motorsports Club magazine Challenge, 1977." -Harrel Lamkin

The caption reads: "Take, for example, the new AMC Pacer. A great new outlook. Style with a new flare. A car built for four foot tall Martians, grown taller to accomodate mere mortals! A little slow, a little overweight perhaps, but a definite step in the right direction. A great small car; rack & pinion steering, smart interiors, overdrive, plenty of visibility, actually fun to drive! Buy it! Show American Motors they're right! When yours is worn out, there'll be something even better!"

Editor's Note: How we Pacer lovers wish this were so...