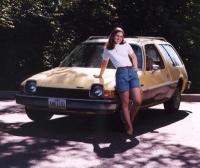 190. "My 17 year old daughter is the principle daily driver of this 1977 Wagon with like-new original leather interior and very little rust, 110,000 original miles.

"[The car is] yellow with woodgrain, which I purchased in July 97 with 90,500 miles on the odometer. My 17 year old daughter drives it to school and work on a daily basis and just today returned from a 200+ mile round trip to Columbus, Ohio (I live in Dayton). My son just got his 'temps' so it looks like the venerable Pacer will be performing extended duties. According to the warranty in the glove compartment, it was purchased by a woman in Peachland, North Carolina on 22 February 1977. It now has almost 111,000 miles on the odometer with very little rust. I repaired some rust on the rear fender under the gas cap. It is almost impossible to fill the tank without having gas splash back out and run down the fender.

"I pretty much grew up around AMC's. My earliest memory is sleeping on the parcel shelf under the rear window in my Dad's Hudson Hornet on long trips (you wouldn't think of doing that now). He traded that in on a midnight black '59 Rambler wagon with a red stripe down the side and those BIG tail fins. That was traded in on a '62 Rambler Classic wagon which he had until I went into the Air Force.

"The interior was filthy when I got it, but it was in really good shape after a good cleaning. Shortly after I bought it, I had to have the transmission replaced along with the exhaust system and starter. Work I performed myself included F/R brakes, wheel cylinders, shocks, rack & pinion assembly, valve job, rocker arms & pivots, timing gears & chain, rebuilt carb and new master cylinder. After reconditioning the head, I had an exhaust leak between the exhaust manifold and the head. The heat had warped it and, since there is no gasket, I had to take it back off and have the manifold milled. I also have an ongoing exhaust leak between the exhaust and intake manifolds." -George Colleary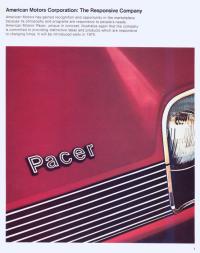 192. "[This] is from the 1974 American Motors Annual Report, which was sent to stockholders, dealerships, and others who were of importance to the company. This book is tough to find, but Annual Reports do occasionally pop up at National Meets. And while they are usually reasonable in price, they are worth picking up to see what went on behind the scenes at AMC." -Eddie Stakes

The cover reads:
"American Motors Corporation: The Responsive Company
American Motors has gained recognition and opportunity in the marketplace because its philsophy and programs are responsive to people's needs. American Motor's Pacer, unique in concept, illustrates again that the company is committed to providing distinctive ideas and products which are responsive to changing times. It will be introduced early in 1975."