Cool Pacer
Chris Allen acquired his Pacer at age 14, and he and his dad spent two years building it into a "Cool Pacer". He explains the details of the restoration.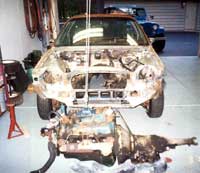 A shot of "Cool Pacer" being built. Click the thumbnail for a larger picture. Scroll down to see several more pictures of the restoration.



For as long as I have known of Pacers, they have been called some very odd names: "fishbowl on wheels", "Atrium on wheels", and don't forget "bubble car". I decided that I wanted to erase those names and replace them with "Cool Pacer!" That had been my dream ever since I was seven or eight years old, and I saw the first "Wayne's World" movie. In the movie they drove a blue Pacer, and from that moment on, I knew I wanted a Pacer. I had been called crazy every day up to when my "cool Pacer" took the road.

The road to my "cool Pacer" was certainly not a smooth one, but I don't think any car project ever runs smooth. It all began when I was thirteen years old. My good friend Jared had been looking through an auto trader, and came across an ad for the car. He called me frantically, "Chris, I found a Pacer and it's even a V8!" Jared had been mocking me for a while about my Pacer obsession, so I thought he was kidding, he urged me to come over to his house. When I arrived he shoved the ad in my face and before I knew it, my Dad and I where on the way to Grandville Michigan where the soon to be my Pacer was waiting.

When we arrived to the dealership, the first thing I saw was the car. When everyone else would say "oh my gosh, not a Pacer!" I thought "oh my gosh, a Pacer!!!" It was a '78 gray coupe with a burgundy vinyl top, some aftermarket false wire wheels, and a V8! It was certainly a diamond in the rough. We learned that the car was originally sold in Arizona, probably to a little old lady (as most Pacers were). It cruised around Arizona for quite a few years and then a museum in Ohio got a hold of it. We think the Museum had grand aspirations of restoring the car, however they were unaware of the magnitude of the restoration. The car sat in the museum for about ten years before it was sold, with no restoration started, to a gentleman in Saginaw, Michigan. My dad's friend in Midland (which is very close to Saginaw) saw the car in an auto trader, but when he finally told us about it and we called on it, it was sold. The car was traded with another car to Grandville Motor Sales in Grandville Michigan for a 1970 Chevelle (typical). Now knowing the history of the car, we decided that the odds of finding another Pacer Coupe with a V8 was very rare, so at the age of fourteen, my dream was beginning to come true.

The Pacer was delivered to our house a few days before my fourteenth birthday. We drove the car briefly, but soon started to realize it's many flaws. We then stripped the car bare. We took out the interior, all the drive train, the vinyl top, and ultimately all the paint. This whole process was a great learning experience for me. I had grown up around cars my whole life; my Dad is a huge car nut. I learned how to take apart an entire car, including the engine. We took the shell of the car, and put it on a giant rotisserie to make working on the car easier. We then took it to have the paint stripped.

Once we had the paint stripped, we noticed some covered up flaws. There were little pin holes of rust laced through the rear pan below the rear bumper, the beautiful vinyl top was harboring rust holes in the roof and, the passenger side door had been hit and popped out with a slide hammer, so there were holes in the door. We took the car up to my dad's friend Greg in Midland Michigan who was to do all the bodywork. We pondered what to do about the rust holes and decided that the easiest thing would be to find a new rear clip and section the new rear clip to the old front end of the car. We obtained a copy of the Phoenix area yellow pages and started to call junkyards in Arizona, until we came across one that had a rear clip I god condition. When the new clip arrived we had that stripped too, and we then took it up to Greg. Greg was not happy because my dad and I decided that the car would look best black, and as any body person knows, black shows every single body imperfection. Sectioning the car took a lot of work, and after it was completed, because the car was to be black, meticulous attention had to be paid to the details of the body. My "cool Pacer" was starting to come together very nicely, however at the slowest pace I could imagine, but perfection takes time.

There was more body customizing to be done. My Dad and I thought that the car would look best on fairly large rims, so we decided to use seventeen-inch American Racing 200S wheels. These wheels would not clear the edges of the original fender openings. Greg reradiused the front fenders a few inches, and again because it was black, much attention had to be paid to detail. Not a single person has asked me about whether or not the front fenders have been altered, which is the best compliment of all. While all the bodywork was going on, my dad and I had our own work to do on the mechanical parts.

I thought that the ultimate "cool Pacer" should have an AMC 401 V8 under the hood, but my Dad was worried that that would be just a bit too much power for a beginning driver such as myself. So, we rebuilt the original 304 V8. We started by having the engine bored 30 thousands of an inch. This is because over time and driving it, the cylinders had begun to become oval instead of perfectly circular. We had the heads redone, and we put a more aggressive cam in it. I am proud to say that I rebuilt the engine myself, with my Dad's guidance of course. The 998 Torque flight three speed automatic transmission we had rebuilt to make sure it was reliable and just one more thing we wouldn't have to fix when the car was complete. We also had the AMC model 20 rear axle re-built with a 3.50 gear ratio in place of the 2.56 original, just to add a little zip to our "cool Pacer's" performance. We were pleasantly surprised to find that the original rear end included a limited slip differential. My dad told me to sandblast and repaint every part on the car. I hated the job, but now I look at the car and I see why it was necessary. Now, the drive train was complete, all we had to do now was wait for the body.

It was a painful couple year's wait. I wanted so badly for the body to be completed but Greg told me that I added another six to eight months of work by painting the car black. Then finally after a years wait, the car was painted and ready to come home to be completed. It came home in April of 2002 the week before spring break. While all my friends were going to Mexico, Florida and California, I proudly said, "I'm going to my garage!" It took until the second week of June to finish the car to road worthy condition. We adjusted the ride height by cutting a coil and a half out of the front coil springs, and had the rear leaf springs de-arched three inches and then replaced the factory rear shocks with air shocks. It was the interior that tied us up. The original interior was red, and in bad shape. We wanted the interior black and in good shape, so we painted all the good interior pieces with black vinyl paint and we went to junkyards looking for replacement pieces for all the broken ones. One of our Pacer friends knew where to get new replacement carpet, and soon our interior was looking good as new.

Now that the car was looking great, it had to sound just as great. We decided that dual 40-series delta-flow Flowmaster mufflers would do the trick. We studied the car and realized that the exhaust pipe originally went nder the rear axle as opposed to over it. We just couldn't find room to run dual exhaust out the back of the car, so our solution was to simply have the exhaust exit on the side before the rear tires. We took the car to a custom exhaust shop, "Monty's Place" and before we knew it, our Pacer had a rumble that resembles that of a '70 Chevelle SS! The other thing that sounded great is the factory AM/FM/8-Track stereo in the car. I'm proud to boast that I have the only car in the High School parking lot that has an 8-Track player. The only problem is that you can barely hear the stereo over the mufflers!

Now that my "cool Pacer" is complete (I am 17 now) I absolutely love to drive it on those beautiful summer days. The reactions from people are incredible; people don't believe it's a Pacer, and my classmates are even asking me where they can get one too! I cruised Woodward, at the Woodward Dream Cruise, and I took third place with the car in the Non-Stock class at a local AMC show. The rack and pinion unit died on it a few weeks before Kenosha (the one thing that we didn't replace originally), so I unfortunately couldn't make it to the show. However, I'm now focusing on Lansing and I can't wait for this summer to come. No matter what, I am still extremely proud to say that I have built a "Cool Pacer".