Growing the Nostalgia -- Pacer #3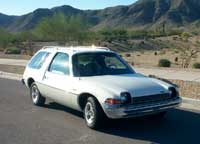 Pacer #2 was my trusty "toy car" for nearly a year and a half. When I moved to Phoenix, Arizona in April 2000 for a temporary assignment for work, I could only take one car, so I made the difficult decision to leave my Pacer behind in Portland, Oregon and live with only my reliable Honda Civic for five months. Pacer #2 remained in the able care of my friend Jeff Larson.

In October 2001, I transferred to Arizona "for good", and the rest of my stuff arrived from Portland in a huge moving truck... including the Pacer! I was overjoyed as they slowly eased the Pacer out of the makeshift shelter they'd built around it inside the truck, down the ramps, and onto the street.

Passing emissions was a trick. Arizona and California have the toughest emissions standards in the country, and it took four attempts for my Pacer to pass. I am grateful for the assistance of AMC guru John Elle for helping me with this. When it did pass, it passed with flying colors!

In December 2000, I received an email from Glenn Roberts of Fountain Hills, Arizona, a short hour drive away from my home in Phoenix. Glenn owns a body shop and is an automobile enthusiast with a huge garage "museum" to show for it. His tastes tend toward the champagne and caviar end of the car spectrum, but he has a soft spot for the Pacer. (You can read about Glenn and his car collection, including the Pacer, in this Arizona Republic article.) He had purchased a 1977 Pacer wagon two years earlier, and he was looking to sell it... saving the space for "that perfect coupe" someday. I wasn't in the market, but as soon as I laid eyes on the car, I couldn't tear my mind away from it.

I didn't have the resources to own two Pacers at one time, but I didn't want to let this car pass me by. Glenn graciously agreed to hold the car for me until I could find a buyer for Pacer #2. As luck would have it, I received an email just two days later from someone in the Los Angeles area looking to buy a Pacer in her area. Luwann Underwood drove overnight from LA to Phoenix that weekend and drove my Pacer #2, her Pacer #1, back home 14 January 2001.

It was a couple weeks before I could get up to Fountain Hills to pick up Pacer #3, but that by no means diminished my enthusiasm. As you may know, I prefer the coupe to the wagon body style, but apart from the fact that it was a wagon, my "new" Pacer #3 caused my memories of Pacer #1 to flood back, evoking all sorts of nostalgia. Same color scheme: white exterior with blue and white interior... but it was even better. It was in incredibly better shape -- interior, exterior, and mechanically -- which is a much better proposition for a car-buff-but-NOT-a-mechanic type like me.

Like every Pacer owner out there, I turn heads everywhere I go. One of my favorite stories: On a delightful windows-down spring day a couple months after I adopted Pacer #3, some random guy yelled across three lanes of traffic, "I like your Pacer!" You gotta love it. Isn't the Pacer just the greatest car ever?


Postscript...
In January of 2006, I sold Pacer #3 to Tom Zorn of Fairfax, Virginia, an enthusiastic Pacer and AMC owner. 20 months into new motherhood, and also working full-time, as busy as I was, I only drove the car a few times since my daughter was born. I wasn't giving the car the "street time" it deserved -- the garage is not the right place for such a pretty set of wheels. Maybe when the kids are out of the house I'll venture into Pacer ownership again... *grin*