Kenny Tucker's "Musical" Pacer
Some of you may have already seen the below picture of Kenny Tucker's Pacer in The Pacer Page Photo & Image Archives. Kenny kindly elaborated on the information we already knew from that Parade article.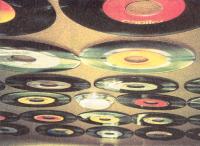 My name is Kenny Tucker from Chalmette, Louisiana. I had a few quiet minutes at work this morning and was scrolling through the photo gallery on your outstanding Pacer page. Anyhow, you can imagine my surprise when I saw that my car is already represented in your photo section. Correspondent Jason Bowler had submitted a Parade magazine photo of my Pacer's interior roof (photo gallery submission #186). I just e-mailed Mr. Bowler to thank him for sending it in. As for my car, it's a sunshine yellow '76, and I thought you might like "the rest of the story", as radio commentator Paul Harvey used to say.

I've been collecting 70s stuff (lunchboxes, board games, books, records, puzzles, Halloween costumes, toys, etc.) since 1991 and by the mid-90s decided that I wanted a 70s car that I could drive on weekends for fun. I was thinking VW but decided that wasn't unique enough and settled on the Pacer. In the summer of '96, I was driving in New Orleans to deliver some documents and saw the '76 beauty parked outside a jewelry store. I slammed on the brakes and pulled over, ran in and with my heart racing 90 mph, inquired as to who owned that car. A shy, rather sheepish 19-year-old store employee walked up and identified himself as the owner. I complimented him on his car (it was a hand-me-down from his aunt) and asked him to contact me if he ever decided to sell. Two months later, he called, and I bought it for $900. Body was in great shape, but the engine needed work.

Since then, the engine's been rebuilt, and it's been freshly painted (same color) and rust-proofed. In early 1999, I finished the painstaking task of collecting the 1976 #1 singles on 45 (lots of thrift store shopping over a 2-year period) and affixed them to the interior roof using double-sided sticky tape, for a really wacky interior touch. The Parade magazine dashboard and car interior contest then arose out of nowhere. I decided to enter, and surprisingly, was one of 10 winners.

Next on the restoration list is to get the dash outfitted with an 8-track player I own and CB radio (the rage in '76), and to get my seats re-done. Finally, after all that, I'll get to put on the vintage 1970s bumper stickers (bicentennial-related and President Ford-related) I've accumulated + the red-white-blue "Pacer '76" racing stripe I acquired off of Ebay. Should be really fun rest-of-the-year projects !!!

Kenny added this update...

As an update, the electronics shop I went to recently had an 8-track/AM/FM radio as OLD store stock. I gleefully snapped it up, and had them install it. I've been buying loads of 8-tracks from thrift stores and especially love finding in 8-track format those various artist K-tel compilations from the 70s --- because it's various artists, it's the closest you can come to listening to AM radio as it existed in the super-70s.