Camper Pacer
Whitney Hess shared her memories of her families' three Pacers, including the one her dad converted to a camper.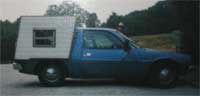 Mom bought a brand new '76 Pacer. Dad liked it and bought himself a maroon one. The blue one developed an engine problem and the dealership made a mistake that ended up ruining the engine. AMC replaced the engine and when Mom drove it off the lot she was hit from behind by a truck that scraped the bubble off the car. It determined that it could not be repaired and was totaled. Since the engine was brand new and it had all other matching parts with the maroon Pacer, Dad bought the blue one back at auction while mom bought a brown '78 Pacer wagon. So we had three Pacers, but one was in the garage for parts.

But the maroon Pacer never had any trouble so Dad decided to resurrect the blue Pacer by putting a camper on the back. My brother drove it to high school and we used it to haul stuff in – people would stop on the street and point at it!

The '78 brown Pacer really was not a good car; it had a lot of problems. The '76 maroon Pacer want for over 150,000 miles before we gave it to another family, and they drove it until the bottom rusted out.